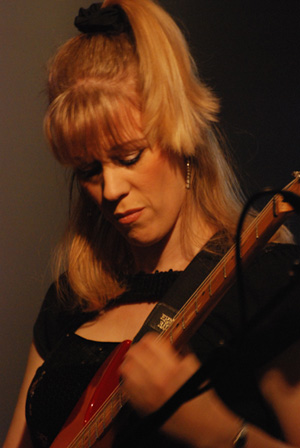 Photo taken at UEA, Norwich with the Steve Hackett Band
©Kevin Lunham Nov 2009
Amanda Lehmann - Guitarist and Vocalist
*NEW* - Amanda Lehmann EP - Shadow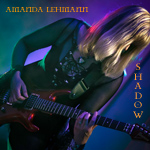 4 tracks:
Shadow
Mirror
Somebody Out There
Spiral

Click here to listen to an excerpt of Shadow - Shadow

Click below to buy a copy!
£5.00 + £1.50 p+p
Also available from the merch stall at Steve Hackett shows
Wazzoon - Through the Haze
Wazzoon duo album now available for download!
8 great tracks!
CLICK HERE to preview!
Interviews
Interview with Progsheet - October 2011
A brief biography
Originally a classically trained pianist, Amanda fell in love with the power of rock and the overdriven guitar. But not being one to be constrained to any one musical genre, she has blended the boundaries throughout her musical career between folk, blues, rock and classical. An accomplished singer/songwriter, Amanda has written and recorded many pieces, and is currently working on her solo album on which she plays guitar and vocals and programs the bass, drums and synthesizer backing.
Amanda has played in several bands based in southern England, but gigging throughout the UK. She has been involved in various duo and solo work (the main duo being Wazzoon (Amanda Lehmann & Eddy Deegan), who's album "Through the Haze" is available from this site), session vocals and guitar, and also written music for film and TV.
After a recent break from the music scene in order to bring up her son, she has now re-entered the arena playing guitar and backing / lead vocals with Steve Hackett, recording vocals on "Out of the Tunnel's Mouth" and subsequently joining the band on the UK 2009 tour, and continuing throughout 2010/2011/2012...
During this time, Amanda has also recorded vocals on Steve Hackett's "Beyond the Shrouded Horizon", Squackett's "A Day in the Life" and most recently Steve Hackett's "Genesis Revisited II".
For the full touring schedule, see Hackettsongs.com/tour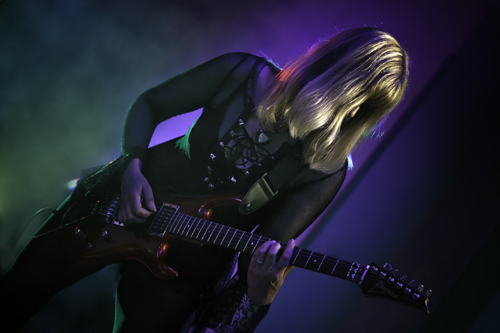 Photo taken at the Steve Hackett Event, Werentzhouse, France
©Angela Vicedomini May 2010